Post by Alma on Dec 6, 2018 16:38:25 GMT -5
[nospaces][googlefont=Righteous]
[attr="class","jarctacontainer"]
[attr="class","jarctapic"]
[attr="class","jarctatagdiv"]A Chess Game Based - FF Tactics Themed - Snowball Fight[break]
Difficulty: Beginner
[attr="class","jarctatitle"]Call To Arms
[attr="class","jarctatext"]
Backstory
[break]
With the holidays swiftly approaching, Santa Claus has become concerned about the safety of the gifts. The last few years he has had problems keeping heartless out of the workshop. So, this year he has decided to recruit some help. That is where you come in![break][break]
Unfortunately, Santa is not a fan of violence. So he will not allow any use of weapons or abilities of any kind to fight back the heartless. Especially since he has witnessed how even basic objects like keys can do so much damage. He has requested that all participants fight back the heartless with snowballs.[break][break]
Yes. You heard us. Snowballs.
[break]
If you are willing to take on the challenge, sign up below! Make sure you read all the rules and the basics on how to participate. [break][break]
How To
[break]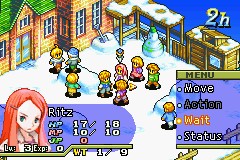 [break][break]
If you have ever played any Final Fantasy Tactics type game, then you'll easily understand the concept. Essentially, there will be a grid based board, similar to a chess board, that you will travel across.[break][break]
Each of your turns will give you two actions to choose from:
Move
and
Aim/Throw Snowball
. Those are the only two actions you can take each turn. Players can move in the directions of a controller D-Pad (up|down|left|right). You cannot move diagonally. Dodging will still need to be written into the RP, but will likely be rolled for by the staff to determine it you've been hit or not depending on range and accuracy of the NPC. Dodging will not count as an action.[break][break]
When signing up, you will be required to create your character's stats. There will be three stats:
Power
,
Range
, and
Speed
.[break][break]
Power
is used to determine the strength of your attacks.
Speed
is used to determine how many tiles you can move per turn.
Range
is used to determine how far you can throw your snowballs.[break][break]
You will be given a total of 9 points to distribute across those three stats. Each stat must have at least 1 to be able to move, do damage, or throw. The rest may be distributed at your discretion. At the end of your post, be sure to
include an out-of-character note which details what tile you've moved to and what attack you've performed
.[break][break]
Rules
[break]


All members must sign up to participate in the event.[break]


All Weapons and Abilities are banned from use during this event!


HP Orbs may drop. They can be collected when stepped on.


You can only attack like a ROOK, NOT a Queen. [Chess Pieces]


You cannot move diagonally.


OOC Notes will need to be included to state your actions.


Every turn, players have two days to post. If not, the NPC will act and all actions used on the player will have been successful.


The event activities will take place from December 15 to January 20.


Many enemies' attacks have "collateral" targets, in addition to the main tile they hit. Collateral damage will be represented by a yellow color on your HP bar. Collateral Hits can be avoided if you dodge on your next turn, but this will sacrifice your chance to move! When dodging, you can only move one tile.


Dodging a Collateral Hit will restore the HP that was placed at risk, making it green again. If the hit cannot be dodged, it will be red instead, showing it as a Direct Hit. All players' snowballs are Direct Hits, but enemies rely more on Collateral Hits, meaning you'll often have to consider the benefits of avoiding damage VS getting into position for your next attack.[break][break]


Who's Signed Up?
[break]
GROUP 1


Skippy (P3|S5|R1)


Ysera (P3|S2|R4)


Ayami (P3|S1|R5)


Alexander (P1|S4|R4)


Riku (P5|S2|R2)


OPEN


[break][break]
GROUP 2


Maeve (P3|S1|R5)


Ramza (P2|S5|R2)


Garnet (P4|S1|R4)


Astrisia (P2|S2|R5)


Gyun (P4|S2|R3)


OPEN


[break][break]
Sign Up Form
▼
Character Name: The Name of the character you plan to use in the event.[break][break]

Stat Distribution = 9 Points to Allocate[break][break]

Power: # from 1-7 (Attack strength)[break]
Speed: # from 1-7 (Movement distance)[break]
Range: # from 1-7 (Attack distance)[break][break]
---
[b]Character Name:[/b] The Name of the character you plan to use in the event.
[b]Power:[/b] Number from 1-7
[b]Speed:[/b] Number from 1-7
[b]Range:[/b] Number from 1-7
nette of gs